EXPO CENTER NORTE
The largest and most traditional event center in São Paulo.

Expo Center Norte was founded on November, 1993, with the aim of turning the north area of the city into a pole of fairs and congresses.
Initially with a total area of 376,700 ft2, Expo Center Norte has gone through gradual growth up to the current 1,054,000 ft2, where our 5 pavilions and 21 auditoriums are distributed.
The modular Convention Center was designed to host up to 4,100 visitors simultaneously and is the largest in São Paulo.
In 2009, with the expansion of the pavilion area and the construction of the new Convention Center, the enterprise has become one of the most flexible and complete venues for holding events in Brazil. Today, even more modern, it places São Paulo at the same level of other first world cities for the conduction of fairs and congresses.
Expo Center Norte is part of the multiuse complex Cidade Center Norte, which also features Center Norte shopping mall, Lar Center and Novotel Center Norte, all of which are easy to access from the airports in the city.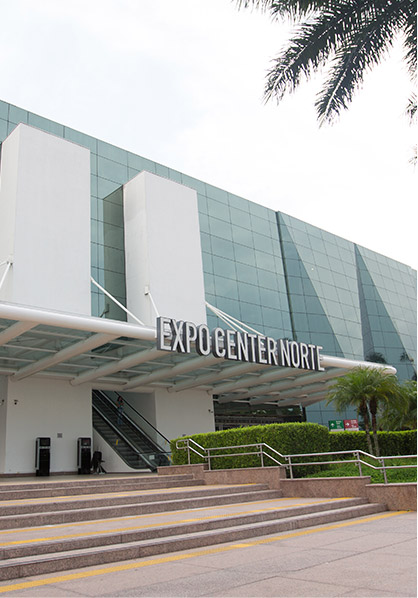 MISSÃO

Empreender negócios e buscar oportunidades nas áreas de materiais para construção civil, imobiliária e agronegócios, com inovação e sustentabilidade.

VISÃO
Ser reconhecidos como um Grupo:
Pioneiro, empreendedor, dinâmico e inovador.
Que atua com controle familiar e gestão profissional.
Referência nos mercados em que atua, com alta rentabilidade.
Admirado interna e externamente pelo bom ambiente de trabalho.
Que conta com bons executivos e que investe em formação.
Que acompanha as mudanças do mercado.
Com crescimento orgânico e sustentável.
Fundamentado na simplicidade, no trabalho e nos valores que sustentam seu crescimento.
Sólido, estruturado, criativo e que desenvolve negócios líderes.
VALORES
Organização e Disciplina: Dedicação ao trabalho com organização, estrutura e perseverança.
Honestidade: Honestidade nas relações e atitudes. Ser claro, transparente e ético.
Trabalho e Família: Criação de um ambiente acolhedor e profissional, onde os valores da família estejam sempre presentes.
Respeito: Respeito aos outros, manifesto pelo ouvir sem julgamento e pela liberdade de expressão.
Humildade: Basear nossas relações internas e externas em princípios de igualdade e justiça, sem personalismo.
Simplicidade: Buscar a simplicidade nos processos de trabalho e nas relações, gerando agilidade, prontidão e qualidade.
13 ft
CEILING HEIGHT ON THE FIRST FLOOR
18 ft
CEILING HEIGHT ON THE SECOND FLOOR